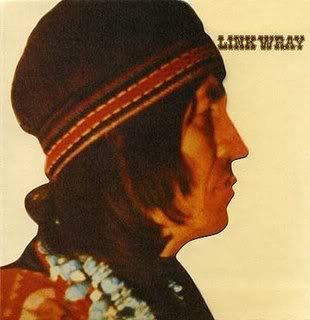 Link Wray is the self-titled 1971 album by pioneer Rock & Roll guitarist, and Shawnee Indian Link Wray. The album was recorded in an old chicken shack on Wray's Maryland farm, and is a passionate blend of Blues, Country, and Folk rock elements. The music is characterized by the purposeful use of simplified sounds to reflect the then-current vogue of blues and other "root" music being used in many rock bands. The recording included the use of a shaken can of pebbles as part of the percussion on several tracks. Still, Wray's guitar-work, composing and vocals reflected modern rock influences.
Make no mistake, this is not Wray in instrumental surf-guitar mode, but the man handling all the vocals, belting out greasy, back-porch, rock & roll gospel-blues. Straight up groovy.
Link Wray
pass: rideyourpony
Also check out the
Link Wray Tees
my homegirl Jess designed @
Rotter and Friends
.