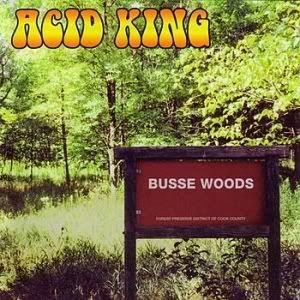 Take a look at any Acid King photo from the past decade—a stack of retroactive shots resembling Dazed and Confused and That '70s Show—and it's easy to assume that the San Fran trio spends their free time doing one of two things: a) smoking from a chronic-grade gravity bong for hours on end, to the point where they actually think Black Sabbath is a new band, or b) scouring vintage stores for dead stock bellbottoms and weathered leather. As it turns out, both assumptions are easy to make and completely off base. For one thing, guitarist/vocalist Lori S. balances her time between writing riffs and post-production work with a reputable film company. Interestingly enough, the latter led to an eye-opening year as an assistant on the set for Joe Berlinger and Bruce Sinofky's acclaimed Metallica documentary, Some Kind of Monster.
"It was like living with a bunch of grown-up millionaires, who were all trying to write a record the same way most people work a 9-to-5 job," she explains. "Like [in staccato voice], 'We are going to write rock tunes now, and then we're going to go spend time with the kids.' I don't see any creativity in that. I just see a record label saying, 'We need a bunch of hit songs. Get to work!' I can't imagine having the luxury of being able to sit around all day writing Corrosion of Conformity riffs."
No kidding. The fact that Acid King's been toiling around the Bay Area since the early '90s—back when stoner rock was barely a concept and the Northwest was dominated by Sub Pop, the hyped home of Soundgarden and Mudhoney—and many locals still don't know who they are is both ironic and, well, kinda fucked up. After all, Acid King were playing the same school of Kyuss rock as many of the other artists in this very issue back when said artists were still in junior high. Case in point: a recent opening slot for Boris, a successful set that led many excited locals to the Acid King merch booth asking, "Who are you guys? You've been around since 1993? Really?"
Busse Woods
is such a daunting, claustrophobic, evil album that will pull you down like a twenty ton block of concrete, making you never want to get up again. Groovy as fuck, the sound here is very bass-driven, with the bass down tuned fuzzy below sea level with psychedelic guitar overtones playing unbelievably hypnotic riffs. No doubt the highlight of this band is the vocalist, Lori S. Although the vocals are sparse, they are spellbindingly trippy, very drawn out, and surreal. Listening to the thick melodies between her echoes and chants will make you feel so dreamlike. Just close those red eyes and embrace these tunes.
Lori S. [Lori Crover] (guitar, vocals)
Joey Osbourne (drums)
Brian Hill (bass)
part 1
part 2