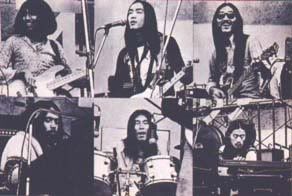 While Germany is most known for being at the forefront of electronic psychedelic music, Japan certainly had its share of cosmic travelers. Love Live Life + 1, Hiro Yanagida, Food Brain, Kimio Mizutani, Flied Egg and Far Out were but a few examples of music acts at the edge of rock, jazz and the experimental. One of the more mythical of these groups was Far East Family Band, a group who would gain some stature throughout the world during the latter part of the 1970s.
Klaus Schulze was one such luminary to be attracted by this large Japanese ensemble. Helping produce their early albums, Schulze saw a chance to promote cosmic rock all over the globe. However, I always felt their first two albums were trying too hard to be the next Dark Side of the Moon. The instrumental bits are great only to be ruined by sensitive pop ballads - not FEFB's strong suit I'm afraid.
But it all came together on Parallel World. Focusing on their instrumental cosmic sound and pretty much foregoing the pop commercial-oriented songs, the six-piece FEFB unleashed a gem that easily could've found itself on the Kosmische Kouriers label. In fact, the recording comes closest to sounding like the first Cosmic Jokers album with more focus given to the whooshing synthesizers than the guitars (Schulze's influence?). As one can guess, the two keyboard players are featured most prominently, and it's hard to imagine that FEFB actually had two guitarists as well!
The album opens with "Metempsychosis" (Arzachel anyone?) which is a tribal drum and synthesizer atmospheric backdrop piece that sets the stage for "Entering" which contains some intense fuzz bass and a ripping guitar sequence amongst the 12 minutes of keyboard ecstasy. Brilliant, and this is the finest track FEFB has ever recorded! "Kokoro," thankfully, is a short psych ballad. This is the sort of piece their first albums featured, so one can get a brief whiff of this style. The side long closer "Parallel World" sounds like a long-lost Galactic Supermarket recording and aptly finishes a masterwork of cosmic progressive space rock.
The Cave Down From Earth
(1974)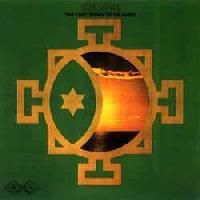 The Cave
Nipponjin
(1975)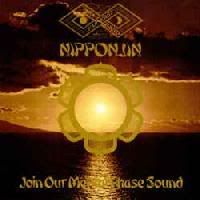 Nipponjin
Parallel World
(1976)
Parallel World
password - contramao