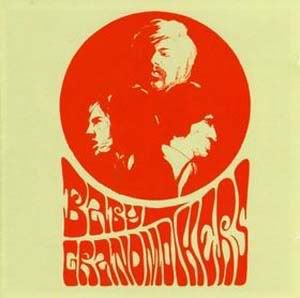 Monster hardrock trio from Sweden. This cd release features this bands 1968 single and some overkill Heavypsych outtakes.
This band started of as T-Boones but when they started playing at Filips (a Stockholm Psychedelia club) their name was changed to Baby Grandmothers.
They basically did HEAVYPSYCH jams with Stack amps and Cream inspiration, but a helluva alot heavier.
A Finnish cult hippie dude M.A Numminen (Yes clown voice dude, if your a Finn ya know his songs) saw em play and was impressed. So he carted off the band to Finland to record a single "Being is more than life". This turned up later in a shorter version on Mecki Mark Men 1969 Lp "Running in the summernight" (there is also a way cool video for this song, with the band meditating in the forest in way cool hippie gear. A must see!)
This CD is a historic release. It's so rare that most US rarities are everyday stuff.
The music is wild, jaming HEAVYPSYCH that will rock all boats. Josefus and Stonegarden fans will feel home here with ease! Hear "Bergakungen" Mountain king That flattens most things outhere! More need not be said.
Kenny Håkansson (guitar)
Bella Fehrlin [Bengt Linnarsson] (bass)
Pelle Ekman (drums)
1 Somebody Keeps Calling My Name 9:14
2 Being Is More Than Life 5:40
3 Bergakungen 16:19
4 Being Is More Than Life 2 19:44
5 St George's Dragon 7:03
6 St George's Dragon 2 0:57
7 Raw Diamond 1:30
Rip from CD 256@ (artwork included)
From Orexis of Death
Baby Grandmothers